Voluntary Accountability: A StreetLeverage – Live Wrap-Up
May 5, 2016
StreetLeverage – Live 2016 may be over, but the takeaways linger; sights set on possibilities, participants shared generosity and perspective while looking at critical issues impacting the field of interpreting. Here's a brief look at some highlights from the weekend.
#CommunityisAccountability
In the world of sign language interpreting, time is a precious commodity. The beauty of StreetLeverage – Live is that it provides opportunity to press pause on the day-to-day and allows us to step away to gain enough distance and perspective to recognize where change is needed and how we might personally contribute.
This year, StreetLeverage provided a pause April 15-17, 2016 in Fremont, CA. Holding this space allowed those in attendance to tap into a deeper understanding of accountability and what is possible when we choose to voluntarily hold ourselves accountable in our own careers and in the industry as a whole.
It is in these moments when we are wrestling with the decision to step up that change is being formulated.
While there are no easy answers, participants, presenters, partners, and organizers all came together seeking community, where they could explore and share ideas, perspectives and challenges and posit solutions for moving forward. In seeking higher standards and better outcomes, there is also an acceptance that there is no finish line – there is only forward progress.
What Community Can Do Together – Supporting the Future
#CommunityisAccountability struck a chord in StreetLeverage – Live 2016 participants on Friday night as evidenced by the nearly $10,000 in donations for the California School for the Deaf, Fremont's Student Leadership Programs for Students of Color. Preserving and protecting programs and schools like these is critical and StreetLeverage is proud to facilitate this opportunity. Generosity is contagious.
National Treasure – Ella Mae Lentz
In an effort to recognize those who have enriched the fundamental assets of Deaf Culture, ASL, and the field of sign language interpreting, StreetLeverage created a National Treasure Award. Recognizing these outstanding individuals who epitomize accountability is an opportunity to highlight those in the field who have dedicated their lives to acting as agents of change.
StreetLeverage was honored to celebrate Ella Mae Lentz, the 2016 StreetLeverage National Treasure Award recipient.
Live Stream Access – Reaching Out to the Future
This year, StreetLeverage charted a new course for Live Stream access in an effort to extend the message #CommunityIsAccountability beyond the walls of the hotel in Fremont, CA. In addition to the new opportunity to participate in the Main Sessions via Live Stream, StreetLeverage was proud to partner with CIT to extend Live Stream access to all students enrolled in sign language interpreting programs in the U.S. and to partner with WASLI to extend the opportunity to its members living outside of North America.
The Power of Voluntary Accountability
Shaping a better future for the field of sign language interpreting requires open and honest dialogue and a commitment to accountability.
Conversation Catalysts
We are inspired by those courageous enough to articulate their ideas, perspectives and thoughts and who stood up front as catalysts for the many insightful conversations which unfolded during the course of the weekend. Our sincere thanks to:
| | | |
| --- | --- | --- |
| Ben Bahan | Marty Taylor | Pamela Collins |
| MJ Bienvenu | Aaron Brace | Jackie Emmart |
| Ritchie Bryant | Jimmy Beldon | Wayne Betts, Jr. |
Event Architects
Behind all of the insight and perspective, there is a team of people dedicated to the running of cables, the nitty-gritty minutia, the back-stage and back-office details that make an event run smoothly.
For their ingenuity, tenacity and dedication to creating an environment where courageous and free-flowing dialogue helps formulate change, we salute our LiveCorps staff and volunteers. May there be more tippy-toes than deep as you work to regain balance in your lives post event. Our deepest gratitude to these event architects who flip the switch which illuminates StreetLeverage – Live.
Core Staff
| | | |
| --- | --- | --- |
| Tara Arthur | Sean Benson | Kristy Bradley |
| Dee Collins | Jenna Gorman | Kelly Ker |
| Erica Kramer | Cassie Lang | Tom Lauterborn |
| John Lestina, Jr | Diane Lynch | Jean Miller |
| Deborah Perry | Lance Pickett | Jason Smith |
Student Volunteers from American River College and Ohlone College
| | | |
| --- | --- | --- |
| Becky Alcantara | Brittany Arnold | Kate Clark |
| Rey Duprey | Lisa Gomez | Jenny Gove |
| Jay Jempson | Lindsay Kram | Gabriela Loera |
| Catherine Lowry | Jessica Luna | Sean Roberstson |
| Jarice Starbuck | | |
#PartnersAreLeverage
The foundational commitment of our vision partners allows StreetLeverage to extend thought leadership to the field of sign language interpreting. These partners support the space and belief that change can happen, not only via resources, but through their dedication and commitment to voluntary accountability. Our profound thanks to:
Convo |  Pleasanton, CA
Connect With Us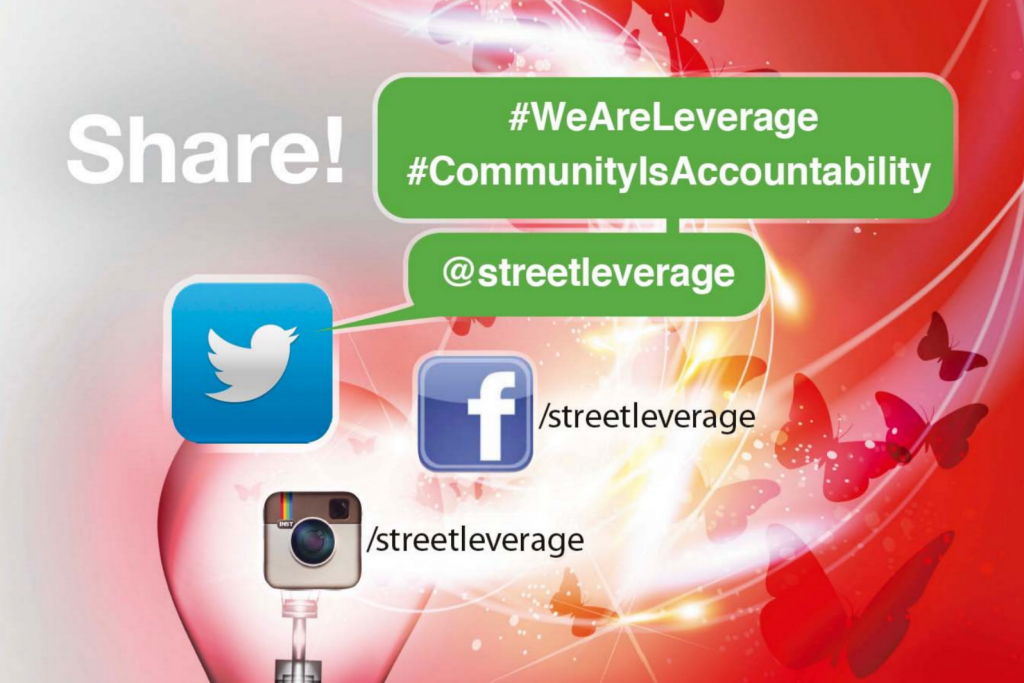 If you haven't done so, we hope you will take this opportunity to subscribe to receive our weekly posts in your inbox and connect with us via Facebook, Twitter, and Instagram. We are committed to continuing the dialogue that occurred during the Live event and hope you will connect with us regularly to share your insight, perspective, and experience in order to enhance the practice of sign language interpreting. #CommunityisAccountability #WeAreLeverage
#WeAreLeverage
A community of people committed to possibility creates a powerful foundation for change. Those who attended StreetLeverage – Live 2016 stepped into their accountability by choice, opening their minds to new thoughts, perspectives, and approaches in the field of sign language interpreting. The hashtag #WeAreLeverage calls us all to utilize our collective influence to hold ourselves and our colleagues to a higher standard, to strive for more, and to live up to the ideals which brought us to this field in the first place. We were reminded that #CommunityIsAccountability and that, indeed, the work sign language interpreters do impacts people's lives. Our hope is that these weekend conversations stir participants to generate thought and dialogue long after settling back into regular life.
Sincere thanks to all who participated in StreetLeverage – Live 2016.
Stay tuned for announcements for StreetLeverage – Live 2017. Coming soon!
*
Interested in receiving StreetLeverage posts in your inbox?
SignUp!
Go Deeper
Reciprocity
StreetLeverage - Live
Find More Goodness
What's everyone chatting about?
Forward-looking organizations committed to retelling the story of the interpreter.
Stay on top of the latest and greatest.​
We will never share your info.​
Sign me up!