A Passion that Leads to Destiny
January 1, 2017
Abstract
In an effort to bring recognition to leaders in the field of interpreting and interpreter education, graduate students pursuing a Master of Arts in Interpreting Studies selected a local community leader to spotlight. Dr. Jacqueline Bruce, affectionately known as Jackie Bruce was selected for interview because of her commitment to the field of signed language interpreting and her passion for educating and mentoring interpreters. Dr. Bruce's educational opportunities served as a springboard for her successful journey. Although she never thought of herself as a leader, she exhibits leadership qualities recognized by everyone she comes in contact with. Her path to becoming a leader has been paved with a colorful patchwork of opportunities filled with twists and turns that have allowed her to settle into a comfortable place that serves the community who supported her along the way.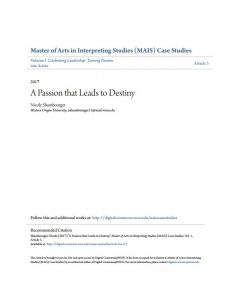 Citation: Shambourger, Nicole (2017) "A Passion that Leads to Destiny," Master of Arts in Interpreting Studies (MAIS) Case Studies: Vol. 1 , Article 5.
*
Interested in receiving StreetLeverage posts in your inbox?
SignUp!
What's everyone chatting about?
Forward-looking organizations committed to retelling the story of the interpreter.
Stay on top of the latest and greatest.​
We will never share your info.​