Constitutional Law – Zobrest v. Catalina Foothills School District: Should the Wall Between Church and State Come Crumbling Down? Funding Sign Language Interpreters and the First Amendment
January 1, 1993
Introduction:
In Zobrest v. Catalina Foothills School District, the Ninth Circuit held that the school district's failure to provide a state-paid sign language interpreter to a handicapped student while he attended a sectarian school did not violate the First Amendment of the Constitution. Specifically, the court held the school district's conduct did not violate the Establishment Clause or the Free Exercise Clause. With regard to the former the court determined that the interpreter would have worked in a school environment in which two functions, secular education and advancement of religious values or beliefs, were intertwined. With regard to the latter, despite the burden on the student's free exercise of religion, the court found that a compelling state interest justified the denial of the requested interpreter.
The Zobrest's petition for writ of certiorari before the United States Supreme Court has been granted.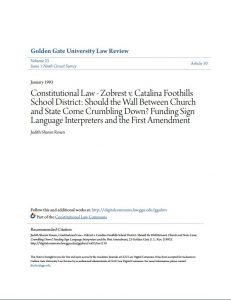 Citation: Judith Sharon Rosen, Constitutional Law – Zobrest v. Catalina Foothills School District: Should the Wall Between Church and State Come Crumbling Down? Funding Sign Language Interpreters and the First Amendment, 23 Golden Gate U. L. Rev. (1993). http://digitalcommons.law.ggu.edu/ggulrev/vol23/iss1/10
*
Interested in receiving StreetLeverage posts in your inbox?
SignUp!
What's everyone chatting about?
Forward-looking organizations committed to retelling the story of the interpreter.
Stay on top of the latest and greatest.​
We will never share your info.​