Debra Russell: A Leader for All Occasions
January 1, 2017
Abstract
This article is part of a collaborative project by students and faculty in the Master of Arts in Interpreting Studies program, class of 2014, at Western Oregon University. The goal of the project is to recognize and honor leaders in the interpreting and interpreter education fields. Debra (Deb) Russell has a long history of serving in leadership roles in varying capacities from local communities to the international stage. She is known as a person of integrity and humanity with a passion for building and connecting communities at home and across the globe. I had the privilege of meeting with Deb to find out where her passion stems from and where she finds inspiration and the motivation to serve. What follows is an inspirational tale of one person's unselfish determination to engage in and foster collaborations across communities that serve to uphold the linguistic, cultural, and human rights of what have long been an underserved, underrepresented, and oppressed people.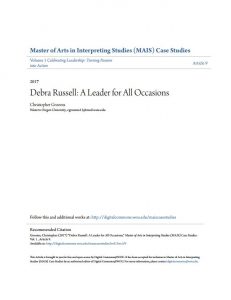 Citation: Grooms, Christopher (2017) "Debra Russell: A Leader for All Occasions," Master of Arts in Interpreting Studies (MAIS) Case Studies: Vol. 1 , Article 9.
*
Interested in receiving StreetLeverage posts in your inbox?
SignUp!
What's everyone chatting about?
Forward-looking organizations committed to retelling the story of the interpreter.
Stay on top of the latest and greatest.​
We will never share your info.​