Doing Leadership: Caring for Our Communities
January 1, 2017
Abstract
This is the story of one interpreter's pathway into the field of interpreting. During an interview that took place on July 24, 2014, she shared her concerns for the community of signed language interpreters and her aspirations for us to do more. She demonstrates for us that leadership may take a variety of forms; It can happen behind the scenes, in service positions, or through the encouragement and support of others. We learn that personal growth happens just by virtue of being present and open to the people and opportunities that surround us. Always fueled by a desire to do, give, and love more, Jeannette Ocampo "JO" Welch teaches us how to be compassionate practitioners and leaders in the field of signed language interpreting.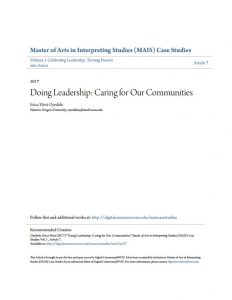 Citation: Oyedele, Erica West (2017) "Doing Leadership: Caring for Our Communities," Master of Arts in Interpreting Studies (MAIS) Case Studies: Vol. 1 , Article 7.
*
Interested in receiving StreetLeverage posts in your inbox?
SignUp!
What's everyone chatting about?
Forward-looking organizations committed to retelling the story of the interpreter.
Stay on top of the latest and greatest.​
We will never share your info.​