Keeping it Vague: A Study of Vague Language in an American Sign Language Corpus and Implications for Interpreting between American Sign Language and English
March 15, 2013
Abstract
Vague Language (VL) seems to be a universal feature of language, and American Sign Language (ASL) has been shown to have all the properties of language; therefore, it is natural that VL would appear in ASL. This thesis is the first study of VL in ASL, and provides evidence that VL occurs in ASL and is used to express meanings equivalent to those of VL in English. The findings of this study document yet another property that ASL shares with other languages, and contribute yet another language to the body of languages that have been studied for VL. The investigator of this study analyzed the National Center for Sign Language and Gesture Resources (NCSLGR) Corpus for vagueness and found that the corpus contained vagueness in signs, gestures, and non-manual markers (NMMs). Hedging, approximation, and lack of specificity were the predominant types of vagueness found in the NCSLGR Corpus. The findings of this study, in addition to the literature reviewed, have implications for ASL teachers, ASL-English interpreters, and interpreter trainers. Previous literature has shown a need for explicit metalinguistic instruction about VL to second language (L2) learners, interpreters and translators. The ability to be vague has been shown in previous research to be a form of pragmalinguistic competence. This study contributes to the knowledge of the forms and functions of VL in English and ASL so that ASL students may improve their pragmalinguistic competence in ASL, and ASL-English interpreters may improve the pragmalinguistic equivalence of their interpretations.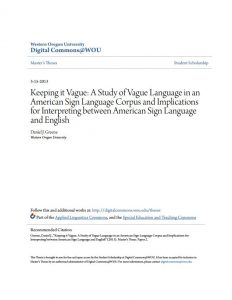 Citation:
Greene, Daniel J., "Keeping it Vague: A Study of Vague Language in an American Sign Language Corpus and Implications for Interpreting between American Sign Language and English" (2013). Master's Theses. Paper 2.
*
Interested in receiving StreetLeverage posts in your inbox?
SignUp!
What's everyone chatting about?
Forward-looking organizations committed to retelling the story of the interpreter.
Stay on top of the latest and greatest.​
We will never share your info.​