Renaissance Man
January 1, 2017
Abstract
This chapter chronicles the career of Daniel B. Veltri, certified American Sign Language (ASL) interpreter for over thirty-five years. A maverick that upholds language accessibility and authenticity, he was an early adopter of video production as a tool to assist in developing signed language interpreters. Significant as Dan's video work continues to be, his contribution to mental health interpreting shaped how practitioners view therapeutic triad relationships.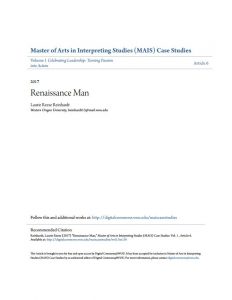 Citation: Reinhardt, Laurie Reese (2017) "Renaissance Man," Master of Arts in Interpreting Studies (MAIS) Case Studies: Vol. 1 , Article 6.
*
Interested in receiving StreetLeverage posts in your inbox?
SignUp!
What's everyone chatting about?
Forward-looking organizations committed to retelling the story of the interpreter.
Stay on top of the latest and greatest.​
We will never share your info.​