The Importance of Specialized Certification in Healthcare Interpreting
September 1, 2016
Abstract
In recent years, stricter standards have been proposed for interpreters in healthcare settings, but evidence for those proposals has yet to be shown through research. This study begins with exploration of the current literature regarding interpreting in healthcare settings to determine if specialization would address issues, problems, and concerns identified in previous research. The author also collected data via pilot surveys among both the d/Deaf community and working ASL-English interpreters, with a total sample size of ten participants, to investigate where current opinions stand on the issue of healthcare specialization. Surveys reflected widespread agreement among d/Deaf participant that healthcare interpreting should require specialized certification, but opinion among working interpreters was more evenly divided. These results provide evidence  that current interpreting standards in the medical field fall short of the ideal, and require action from professional organizations to provide better service to d/Deaf and hearing consumers. Before professional organizations establish guidelines, further research should be done to better understand current opinion and interpreter concerns.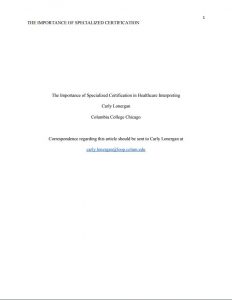 Citation: Lonergan, Carly (2016) "The Importance of Specialized Certification in Healthcare Interpreting," Journal of Undergraduate Interpreting Studies by NIEC. Northeastern University
*
Interested in receiving StreetLeverage posts in your inbox?
SignUp!
What's everyone chatting about?
Forward-looking organizations committed to retelling the story of the interpreter.
Stay on top of the latest and greatest.​
We will never share your info.​