As Much As Air: Integrating Spirit Into Our Work
January 1, 2017
Abstract
As the field of interpreting has become more professionalized, there are those who feel a disconnect between the work and the spirit of the profession. Gina Gonzalez is a trilingual interpreter and grass roots activist who seeks a return to the roots of the profession: serving the Deaf community with spirit. She proposes a new integrative model of interpreting that challenges the current paradigm. Her activism and pursuit of authentic dialogue puts her at the forefront of change in her community.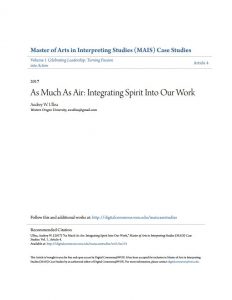 Citation: Ulloa, Audrey W. (2017) "As Much As Air: Integrating Spirit Into Our Work," Master of Arts in Interpreting Studies (MAIS) Case Studies: Vol. 1 , Article 4.
*
Interested in receiving StreetLeverage posts in your inbox?
SignUp!
What's everyone chatting about?
Forward-looking organizations committed to retelling the story of the interpreter.
Stay on top of the latest and greatest.​
We will never share your info.​