Interpreting in Iowa
May 30, 2013
Abstract
The goal of this project was to develop a proposal for interpreter education at the University of Iowa based on research into the needs of various stakeholders in the state of Iowa. Surveys were distributed to potential students of such a program, as well as to Deaf and hearing consumers of interpreting services, entities that employ interpreters, and interpreters currently working in Iowa. Data collected from these surveys provided insight into the current state of the interpreting field in Iowa; insight that was used to support the proposal for an Interpreter Education Program at the University of Iowa.
Additional research into a variety of issues raised by this survey data is recommended. While the research conducted for this study was specific to the state of Iowa, the data collected could inform additional studies, specifically in the areas of consumer understanding of interpreting practice and interpreter education and certification.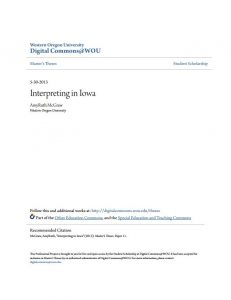 Citation:
McGraw, AmyRuth, "Interpreting in Iowa" (2013). Master's Theses. Paper 11
*
Interested in receiving StreetLeverage posts in your inbox?
SignUp!
What's everyone chatting about?
Forward-looking organizations committed to retelling the story of the interpreter.
Stay on top of the latest and greatest.​
We will never share your info.​