Real-world Shock: Transition Shock and its Effect on New Interpreters of American Sign Language and English
June 3, 2013
Abstract
Real-world shock has historically been defined as a form of transition shock experienced during the transition from the academic to the professional world. It is marked by distinct phases and causes both emotional and physical stress. Previous research has found that real-world shock is experienced by new members of a variety of fields, especially training-intensive service professions such as education and medicine. However, even though the profession of American Sign Language/English interpreting is also a training-intensive service profession, there is no research that indicates whether or not new members of the profession experience similar shock to their counterparts in other professions. As such, this thesis shall attempt to dtermine if realworld shock is experienced by new interpreters of American Sign Language. To do so, a survey was electronically distributed to American Sign Language/English interpreters throughout the United States of America. The resulting data collected was analyzed to determine if new interpreters experience real-world shock and, if so, what the root cause of it is. It was found that interpreters of American Sign Language and English do experience real-world shock upon entering the profession. Furthermore, the shock is a result of the profession rather than from intercultural interactions with the d/Deaf community.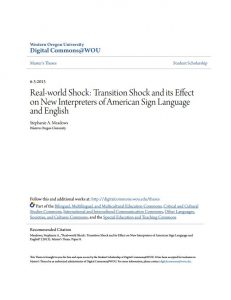 Citation:
Meadows, Stephanie A., "Real-world Shock: Transition Shock and its Effect on New Interpreters of American Sign Language and English" (2013). Master's Theses. Paper 8
*
Interested in receiving StreetLeverage posts in your inbox?
SignUp!
What's everyone chatting about?
Forward-looking organizations committed to retelling the story of the interpreter.
Stay on top of the latest and greatest.​
We will never share your info.​