The Stories Interpreters Tell
May 23, 2013
Abstract
The purpose of this study was to start a collection of folklore of the American Sign Language interpreting community and to initiate a conversation about the role these stories play within the community. The initial hypothesis was that there are folklore stories which circulate among the members of the interpreter occupational folk group. Since there had been no other study of this kind done in the ASL interpreting community, a single story was chosen as a starting point for research on the topic. The chosen tale for the focus of this research was about the students/new interpreter told by the seasoned interpreter. The working hypothesis was that these stories reinforced a specific structure within the field and represent unease toward perceived changes to the field. No research into the folklore of the American Signed Language interpreting community had been done at the time of this research, therefore the majority of literature reviewed was on the topic of folklore studies to provide a foundation for inquiry. Faceto-face interviews, conducted with three experienced interpreters, were used to collect the stories and gather the impressions. The data revealed that seasoned interpreters do indeed circulate stories about the students/new interpreters living and working in the Pacific Northwest. The informants' perceptions of how the stories function differed, however all agreed the stories exist and influence the field. Further research on the American Signed Language interpreting community's folklore, as well as further expansion on the specific stories investigated for this research, is recommended.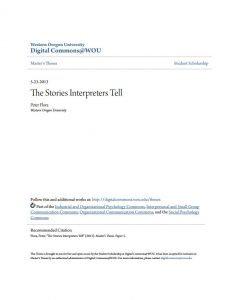 Citation:
Flora, Peter, "The Stories Interpreters Tell" (2013). Master's Theses. Paper 5
*
Interested in receiving StreetLeverage posts in your inbox?
SignUp!
What's everyone chatting about?
Forward-looking organizations committed to retelling the story of the interpreter.
Stay on top of the latest and greatest.​
We will never share your info.​