StreetLeverage – It's Our Birthday!
July 26, 2016
Time flies when you are having fun! For five years, we have been honored to connect with you about the field we love so much.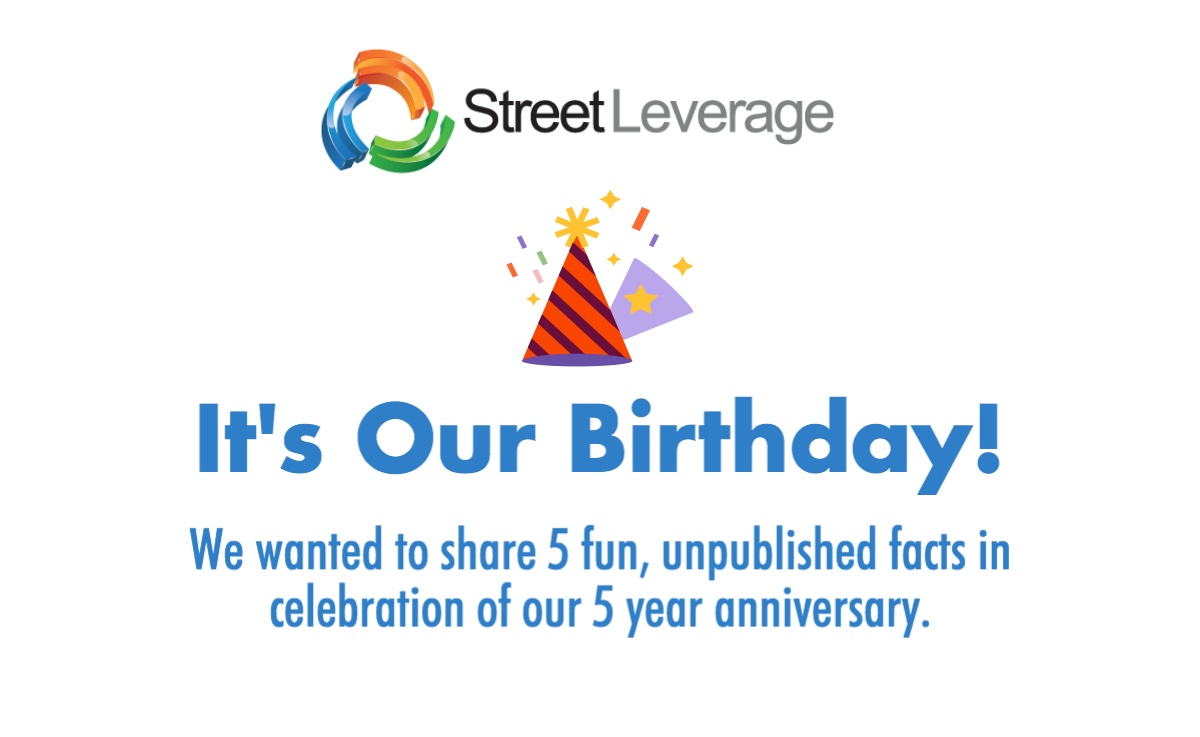 It's been a pleasure engaging with practitioners and stakeholders in the field of sign language interpreting for the past five years. A lot has happened in that time. StreetLeverage contributors and readers have engaged in meaningful and sometimes difficult conversations for which we are grateful. At the same time, we have had the opportunity to meet many new friends, reconnect with others, and attempt to create a space where conversation, self-reflection, and accountability are encouraged.
At StreetLeverage, we also believe in taking the time to celebrate the special moments, special people, and good times. This milestone birthday is one of those moments for us. Thank you for supporting and participating in the StreetLeverage endeavor. Raise a glass with us in celebration!
Here are some fun, unpublished facts to help celebrate our 5 year anniversary.

We'd love to hear from you! Please take a moment to share some of your own StreetLeverage memories in the comments section below. Here are some questions to start you thinking:
What's you favorite StreetLeverage moment?
What is your favorite element of StreetLeverage (articles, social media coverage, live stream, LIVE events)?
How many StreetLeverage – Live events have you attended so far? Why do you go?
What StreetLeverage post has impacted you the most?
What topics do you want to see covered by StreetLeverage?
Who would you love to see present at a StreetLeverage – Live event?
What is your favorite StreetLeverage – Live presentation and why?
Who do you wish would write an article for StreetLeverage?
If you wrote an article for StreetLeverage, what would you write about and why?
* Interested in receiving StreetLeverage posts in your inbox?
Simply enter your name and email in the field above the green "Sign Me Up!" button (upper left-hand side of this page) and click "Sign Me Up!"
*
Interested in receiving StreetLeverage posts in your inbox?
SignUp!
What's everyone chatting about?
Forward-looking organizations committed to retelling the story of the interpreter.
Stay on top of the latest and greatest.​
We will never share your info.​
Sign me up!