American Sign Language/English Interpreting in Legal Settings: Current Practices in North America
January 1, 2011
Abstract
Standard demographic information was collected on certified and non-certified sign language interpreters relative to the provision of interpreting services in legal settings. The study examined which practices interpreters incorporate into their work in legal settings, with particular attention to working in teams consisting of deaf and hearing interpreters, use of consecutive interpreting, preparation for interpreting in legal settings, and maintaining appropriate roles in the courtroom. Findings suggest that the main reason interpreters do not specialize in legal interpreting is a lack of understanding of the nature of the work and appropriate training. A systemic training sequence that addresses many of the deficits in both knowledge and skill currently found in the field is necessary.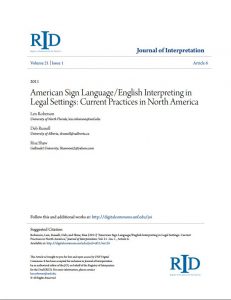 Citation: Roberson, Len; Russell, Deb; and Shaw, Risa (2011) "American Sign Language/English Interpreting in Legal Settings: Current Practices in North America," Journal of Interpretation: Vol. 21 : Iss. 1 , Article 6.
*
Interested in receiving StreetLeverage posts in your inbox?
SignUp!
What's everyone chatting about?
Forward-looking organizations committed to retelling the story of the interpreter.
Stay on top of the latest and greatest.​
We will never share your info.​