The Transition from Participation to Facilitation of Supervision: An Autoethnography
June 11, 2014
Abstract
This autoethnography examines the journey from being a participant of supervision to a facilitator of supervision. The researcher documents his journey using journals to express his experiences facilitating supervision for a group of medical interpreters working in the hospital setting. The purpose of this study is to gather data that could guide future trainings for facilitators of supervision. The supervision group consisted of both American Sign Language/English and Spanish/English medical interpreters. As a newer interpreter to the field with limited medical interpreting experience, it was expected that the researcher might face difficulties successfully facilitating supervision sessions for that staff. It was found that limited experience in the setting and being a newer interpreter did not have any impact on the facilitating process. The findings from this study can be used as one potential guide for future individuals interested in becoming a supervision vii. facilitator and can also be used for those interested in developing materials to train facilitator.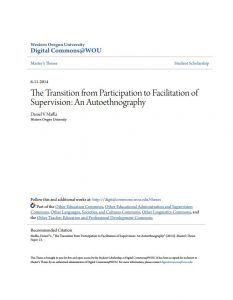 Citation: Maffia, Daniel V., "The Transition from Participation to Facilitation of Supervision: An Autoethnography" (2014). Master's Theses. Paper 13.
*
Interested in receiving StreetLeverage posts in your inbox?
SignUp!
What's everyone chatting about?
Forward-looking organizations committed to retelling the story of the interpreter.
Stay on top of the latest and greatest.​
We will never share your info.​