StreetLeverage-Live: A Water Cooler Upgrade for Sign Language Interpreters
September 6, 2012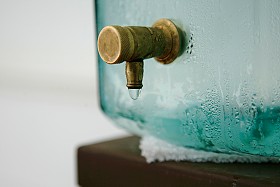 As most sign language interpreters will readily admit, much of the meaningful dialogue they have on the developments within the field occur at the water coolers of the profession—"small talk" sessions with a colleague.
If you are reading this post, you are likely aware, that it is the plight of StreetLeverage to offer interpreters a platform to elevate these conversations into the broader consciousness of the industry.
Underneath the Imperfection
This isn't news to anyone, but the work occurring with StreetLeverage to amplify these conversations isn't a perfect work. If you look, not particularly hard, you will find typos, incorrectly sized images, grammatical mistakes, questionable video quality and the like.
Having said that, if you look beyond the platform and it's imperfection you will find something special; the authentic desire sign language interpreters have to share and genuinely dialogue to the betterment of their field.
This desire leads people to give freely of their time to write articles and initiate and enrich discussions by adding perspective and experience.
These contributions are remarkable.
StreetLeverage – Live
In an effort to honor this authentic desire and extend the platform available to interpreters to dialogue on topics and ideas relevant to the field, I am please to announce the second phase of StreetLeverage, StreetLeverage – Live.
StreetLeverage – Live is a thought leadership event designed to bring together industry visionaries, leaders, educators, entrepreneurs and practitioners to share ideas that foster proactive thinking and dialogue in order to propel the field of sign language interpreting forward.
How Does it Work?
Main Session
The StreetLeverage – Live main session is modeled after the TED speaker series. Meaning, attendees will be engaged by a series of speakers, topics, and live dialogue in a single primary session.
Concurrent Sessions
Following the main session, speakers will present concurrent sessions. These sessions will be a deeper dive of a speaker's main session talk.
Inaugural Event
I am excited to share that the inaugural StreetLeverage – Live event is scheduled to occur November 10, 2012.  The event has been embedded within the PCRID annual conference being held November 9 – 11, 2012.  Click here for details.
I would like to offer my appreciation for Josh Hughes and Jennifer Bell, PCRID Conference Chairs, and their vision for the conference. You guys are doing yourselves and PCRID proud!
Progressive Thinkers
In addition to the PCRID conference leadership, it's the progressive perspective of people like (left to right above) Lyle Vold, Brad Leon, and Ryan Leon on giving back to the sign language interpreting profession that enables game changers like StreetLeverage—Live to get started.  As owners of Access Interpreting, and as interpreters, they see true value in open dialogue on issues facing the field.
A hearty thanks to each of them for their leadership, generosity and support of the PCRID conference to enable StreetLeverage—Live to become a reality.
In the End
I have no delusion that StreetLeverage – Live will be perfect work either. With that said, it is my hope that it can play a role in redefining and expanding the platform available to sign language interpreters to engage in meaningful dialogue on the issues we face as a field.
If you have suggestions on how to improve StreetLeverage – Live, or streetleverage.com for that matter, I welcome your feedback.
What's everyone chatting about?
Forward-looking organizations committed to retelling the story of the interpreter.
Stay on top of the latest and greatest.​
We will never share your info.​
Sign me up!