Where are IOC? Impact of Early Access to ASL, Interpreters & Deaf Studies
May 19, 2021
With limited access to ASL and Deaf Culture, mentors, and minimal information describing opportunities in the field of sign language interpreting, Students of Color often look elsewhere to pursue their careers.
Introduction
Systemic educational racism in the U.S. still plays a huge role in perpetuating inequity between students and contributes to the continuing cycle of oppression (Rothstein, 2008). The inequities that begin in primary school lay a foundation for the ongoing valuing of whiteness and function to further oppress students of color through admission, retention, and curricula in higher education. 
Early Exposure to Multiple Languages
Nearly 43% of our graduating study participants in Deaf studies or sign language interpretation use more than one language. Of 21 students, seven were trilingual, two multilingual.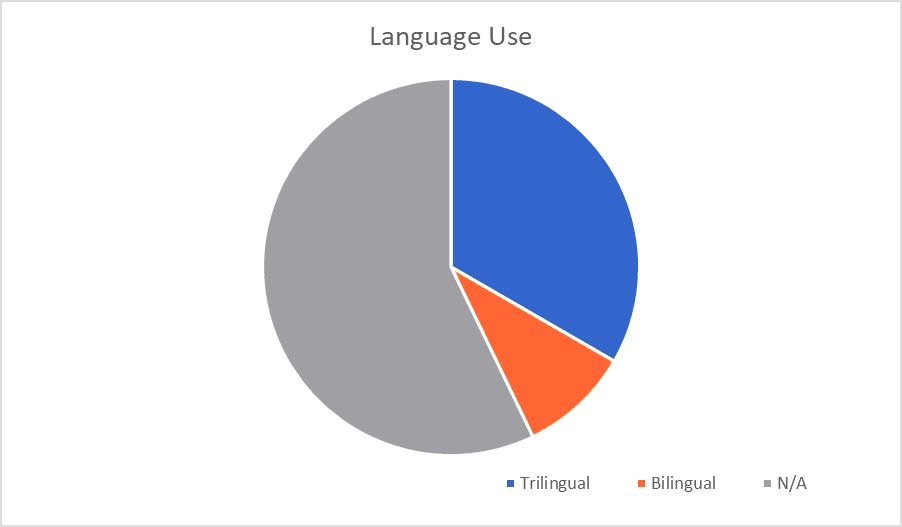 Of the nine students who noted their language use, four mentioned that at some point in their career they wanted to pursue linguistics or become an interpreter for spoken languages.

Many participants grew up interpreting Spanish for their parents and claimed that the transition to interpreting ASL or striving to become a trilingual interpreter seemed like a natural career path. Students who entered the program bilingual felt they had an understanding of language and structure and interpreting would be a natural task. 
Exposure to American Sign Language
One Chicana who is graduating from the interpreter education program (IEP) at California State University, Northridge (CSUN) shared in her interview how she was first exposed to ASL in middle school. She met a deaf student, which resulted in taking her first ASL 1 class and another ASL class in high school. Early exposure was beneficial to this student because it facilitated the development of her ASL skills and built confidence in her signing ability. 
When analyzing our participants' exposure to American Sign Language, 10 out of 21 learned ASL in high school. Of those 10, four were accepted into the IEP, five chose to not apply, and one was denied. Of the remaining 11, 10  learned ASL at a community college. Of those, five were accepted into the IEP, two chose to not apply, and three were denied.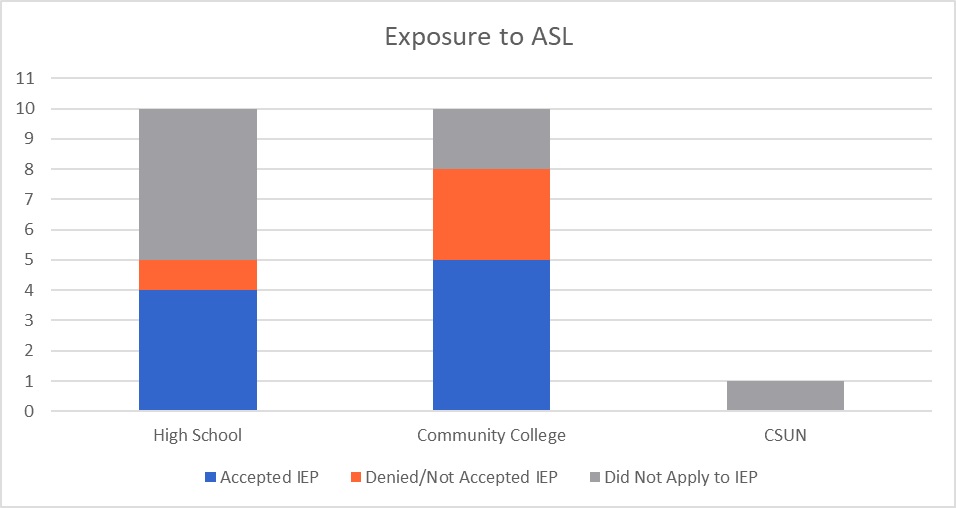 Although only five students who learned ASL in high school applied to the IEP, four (80%) were accepted into the program. Of the students who learned ASL at a community college, eight students applied, yet only five (62.5%) were accepted.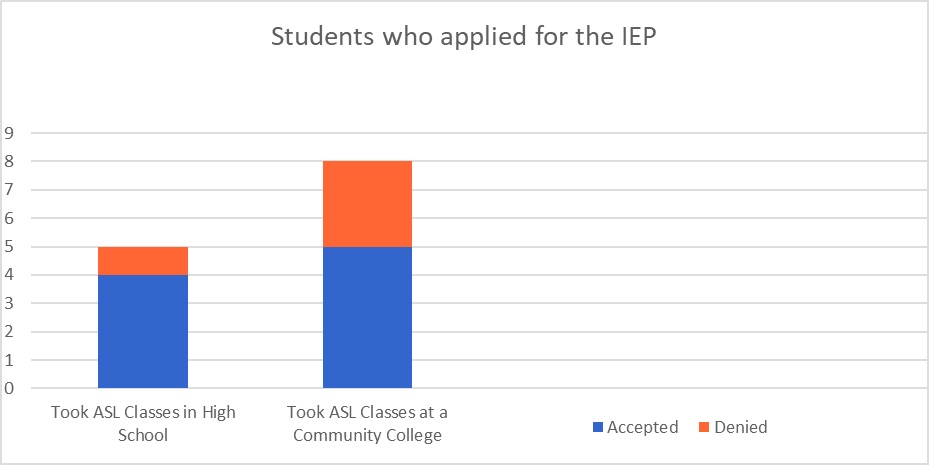 When comparing these two sets of students, we see that the probability of being admitted into an IEP is statistically greater for students who learned ASL in high school. Therefore, it is clear that earlier access to ASL results in a more developed skillset and greater flexibility in career choices. Of the 10 students who learned ASL in high school, six attended predominantly white or upper-middle-class high schools. Thus, we see racism manifesting on a macro level in our educational system. Most Students of Color were not exposed to ASL in high school. 
Schools that are predominantly classified as "Black and Brown" rarely offer ASL as an option to fulfill the foreign language requirement, therefore they do not have the chance to take ASL until they reach college. In 1996, the Center for Applied Linguistics (CAL) conducted a survey of 1,650 high schools to record which offered ASL as a foreign language. Only 17 schools offered ASL, which is equivalent to 1%. A second survey targeting California schools was conducted in 2004, and 66 high schools offered ASL (Rosen, 2008). This lack of access to ASL in a classroom setting early on in one's educational career prevents students from having the opportunity to experience American Sign Language and increases their chances of succeeding in an IEP or developing an early interest in Deaf Studies. This educational attainment gap is undeniably systematic and rooted in oppression against Students of Color. We can infer then that high rates of white students in IEPs are connected with a lack of exposure to ASL among minority communities in systems of education. 
Interactions with Interpreters 
Many students reported having little to no interaction with sign language interpreters to gain knowledge of the field. Students reported that although they had seen sign language interpreters in their classrooms or knew about sign language and the Deaf community, they did not interact with them. Only three out of 21 students expressed having continuous interactions with a sign language interpreter in the field. Fifteen either chose not to share information related to interpreter interactions or stated they did not have interactions with interpreters. Four students expressed having met or knowing of an interpreter but not interacting with them regularly.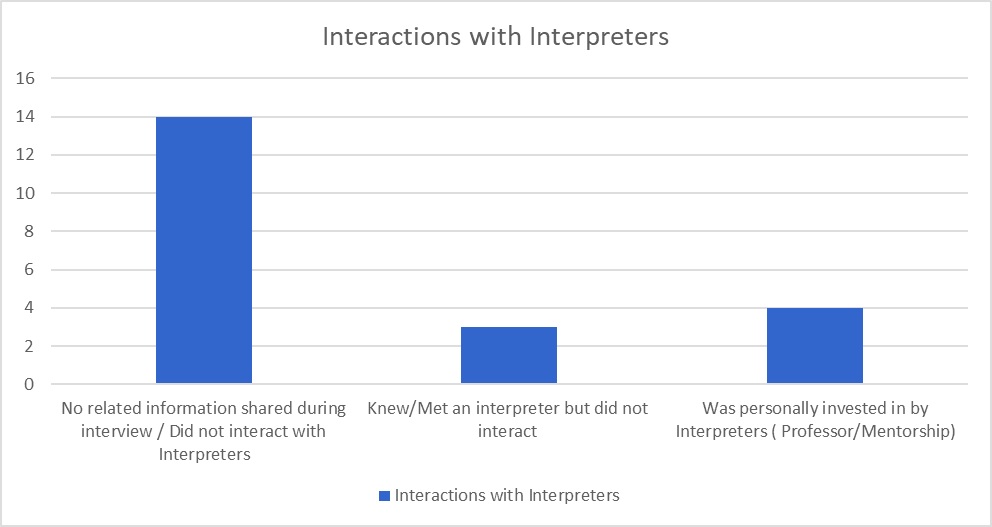 Interacting with working sign language interpreters could influence a student's decision to pursue the field. Further, we see that only six out of the 21 participants expressed having seen or met an Interpreter of Color (IOC), confirming the fact that white interpreters currently dominate the field of sign language interpreting. Fifteen students expressed having no interaction with, or have never seen an IOC, or chose not to share information regarding IOC. Six students reported seeing, meeting, and/or interacting with IOC. Two were identified as Black/African American interpreters, one was identified as a Latina interpreter, one a Filipino interpreter, and the remaining two were not specified.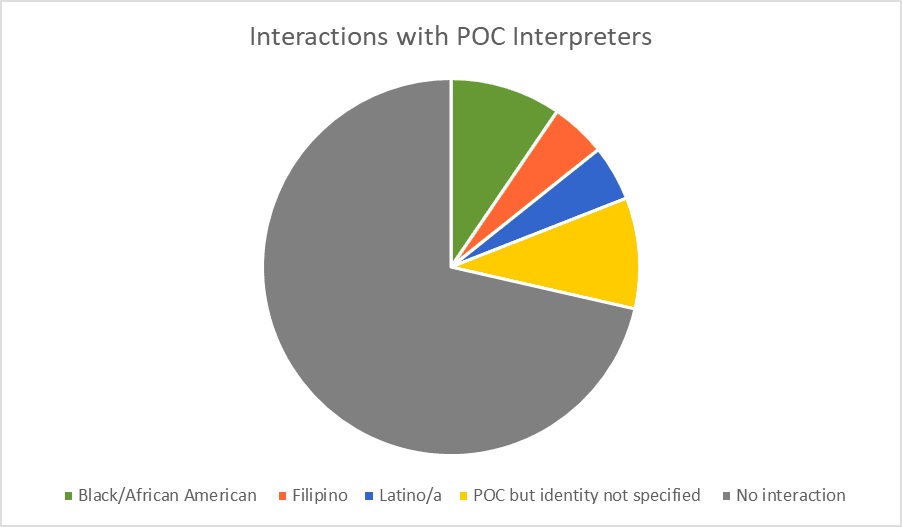 Whether or not they chose to pursue the field of sign language interpreting, participants lacked exposure to sign language interpreters and information about the field prior to entering the interpreter education program. One participant expressed her concern regarding the need for interpreter interactions, stating, "I wish there was someone to teach me about [the interpreting field]. Not once was I taught about what jobs I can do or what it means to be an interpreter." POC who were motivated to enter the field also expressed this concern but their response was to do their own personal research regarding the field which led to an increased level of interaction with interpreters. Overall, the consensus was that students lacked knowledge but desired more information about both interpreting and Deaf Studies. A common perspective was that interpreters were "strict professionals" and students did not feel comfortable approaching interpreters or asking them questions about their job. Information about the IEPs was not well-known, and students did not have an understanding of the field. This gap in knowledge could be a factor in students electing to pursue other career interests.
Implications of Early Access to ASL and Interpreters 
The lack of early exposure to ASL, the lack of meaningful interactions between sign language interpreters and students of color, and the lack of exposure to interpreters of color may all have an impact on a potential student of color's pursuit of sign language interpreting as a career. Other career options where representation, information, and access are more readily available may become more appealing. One Jewish Iranian student stated, "Interpreting is really cool and that's what most Deaf studies majors want to do but I think there's a huge hype…It's admirable and they [interpreting students] are the best signers but I felt that was not me." Admiration for the interpreting field is a common theme, but the desire to "advocate" rather than "provide access" is a popular mindset. Another student stated, "I would rather help [sic] them get to college than help them communicate with hearing people." A black student also mentioned, "I know what it's like to be that outcast, or feel like you are not wanted, which is the main reason I want to go into community services- to show people you can move forward…I want to be an advocate… In the long run, [this] will be better for the community as a whole." The experiences that these students had, both before arriving at a 4-year university and while at a 4-year university, play an important role in determining their career paths. Earlier exposure to ASL and exposure to IOC may be among the key elements in attracting POC to the field. In order to do so, we must break down the institutional racism that is creating barriers to ASL exposure in primary and secondary educational spaces.
To continue this discussion, here are some questions to consider:  
How can we expose People of Color to sign language earlier on in their academic careers?

What are the roles that both Deaf and hearing people of color can play as mentors in sign language development in communities of color?

When students of color do enter IEP programs, what are some structural changes we can make to provide foundations for their success?
*We would like to thank and acknowledge John Pak, M.Ed., for the time and energy invested in the translation and ASL video work presented here. 
References
Center for Applied Linguistics. (1997). A national survey of foreign language instruction in elementary and secondary schools: A changing picture: 1987–1997. Washington, DC: Author.
Rosen, R. (2008). American sign language as a foreign language in U.S. high schools: State of the Art. The Modern Language Journal, (92)1, doi:10-38. 10.1111/j.1540-4781.2008.00684.x.
Wilder, T., Allgood, W., & Rothstein, R. (2008). Narrowing the achievement gap for low-income children: A 19-year life cycle approach.  Proceeding from Equity Symposium of the Campaign for Educational Equity. New York, NY: Teacher's College Columbia, University.
Other Contributors to this Series:
Lissa D. Stapleton
Dr. Lissa D. Ramirez-Stapleton is an associate professor at California State University Northridge in the Department of Deaf Studies and core faculty for the Educational Leadership and Policy Studies program. Her research focuses on equity and access, identity development, and the educational history of Deaf students, faculty, and staff with a particular interest in the intersections of race, gender, and disability. www.drlissad.com
Jasmine Solis
Jasmine Solis (pronouns: she/her/hers), originally from Orange County California, received her B.A. in Deaf Studies with a concentration in Interpreting from California State University, Northridge (CSUN). As a recipient of the CSUN Presidential Scholarship, Jasmine completed her research unpacking confidence levels and anxiety amongst Students of Color who are currently or planning to pursue interpreting. Now as the full-time Academic Advisor for the Deaf Studies Department at CSUN, Jasmine hopes to continue supporting and encouraging students to reach their career goals.
MJ Jones
MJ Jones (pronouns: they/them/theirs), a Southern California native, currently resides in the Washington, D.C. area. MJ's intersectionalities include Black, first-generation Filipinx, masculine of center, sighted, and hearing. After graduating from California State University, Northridge with a B.A. in ASL-English Interpreting and a minor in Queer Studies, MJ graduated with their M.A in International Development at Gallaudet University. They are currently an adjunct professor at Gallaudet University and a Full-Time Staff Interpreter with Vital Signs, LLC.
*
Interested in receiving StreetLeverage posts in your inbox?
SignUp!
Go Deeper
What's everyone chatting about?
Forward-looking organizations committed to retelling the story of the interpreter.
Stay on top of the latest and greatest.​
We will never share your info.​
Sign me up!