Deaf Culture and Music: The Role of Sign Language Interpreters within Live Music Performances
May 1, 2012
Overview
Although the notion of music being a part of a deaf individual's life may seem contradictory, there is evidence that music is and has been a part of many deaf people's lives. Music is and has been a part of the Deaf culture, including, but not limited to, Deaf musicians, utilizing pianos to teach speech, and sign language interpreters at events including music. The intent of this thesis is to explore the relation between Deaf culture and music, historically and presently, as well as how sign language interpreters function within live vocal music performances.
For the purpose of this thesis, the focus will be on that of Western European Art Music. According to A History of Western Music, art music is, "Music that is (or is meant to be) listened with rapt attention, for its own sake" (Burkholder, Grout, and Palisca A2). In this tesis, vocal works with text will be the primary focus. Furthermore, this thesis will focus on live performances of music with sign language interpretations, rather than interpretation of recorded music. However, some music mentioned, such as that of the Deaf rock band Beethoven's Nightmare, does not necessarily fit into the category of Western European Art Music. Additionally, the focus will be that of Deaf history and culture within the United States, though notable events from outside of the United States will also be included.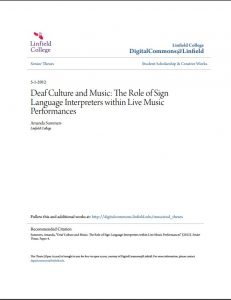 Citation: Summers, Amanda, "Deaf Culture and Music: The Role of Sign Language Interpreters within Live Music Performances" (2012). Senior Theses. Paper 4. Linfield College
*
Interested in receiving StreetLeverage posts in your inbox?
SignUp!
What's everyone chatting about?
Forward-looking organizations committed to retelling the story of the interpreter.
Stay on top of the latest and greatest.​
We will never share your info.​