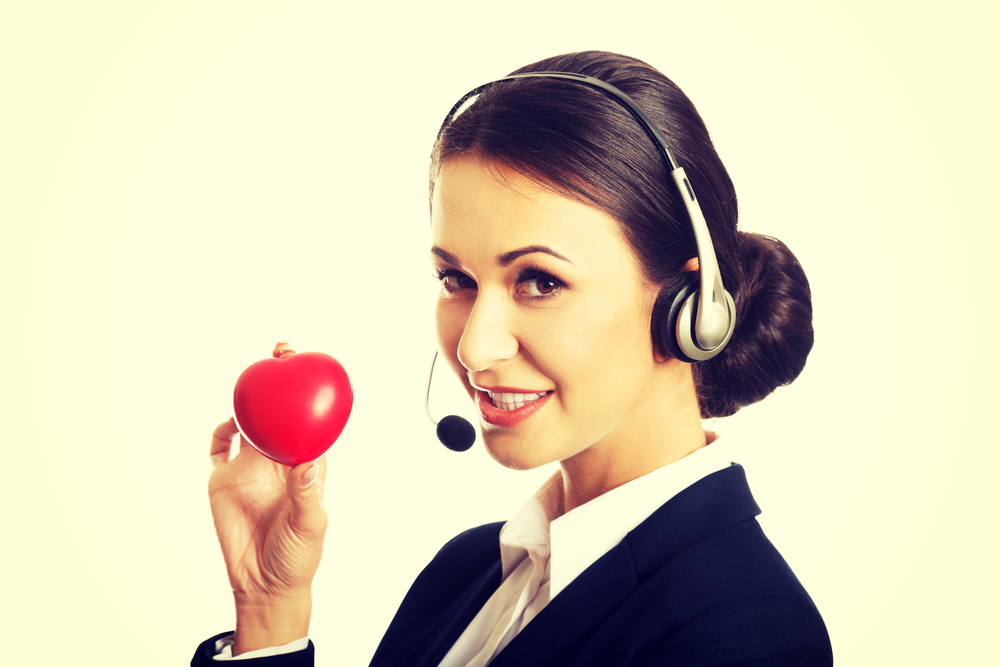 Through recognizing the humanity in ourselves and Deaf people, and working towards a goal, our work can become much less stressful.
I think as Video Relay Service interpreters we have done ourselves a disservice in the way we talk about ourselves, our callers and our work. Generally, when we describe working in a call center, we either underplay it ("I'm 'just' interpreting phone calls"), or grossly exaggerate ("We interpret sex calls! We interpret for drug deals!"). The truth of the matters lies somewhere in between and is infinitely more interesting and gratifying.
The Mechanics of VRS
First, a better visual description of the mechanics of VRS work. Imagine an old-fashioned Bingo blower machine. The balls are whirling around in the chamber, and then one is randomly pulled into the chute for the number to be called. This is each inbound call that is received. The only slight difference is that each time, the ball (caller) is returned to the chamber once it has been called (call completed). Over time, the same number will come up again. This means that while VRS calls appear randomly for the interpreters, we will sometimes see the same number (caller) again. Sometimes, in a single day we will see all distinct callers. A different person every single time. However, it does happen that over the course of a day, a week, a month, callers will be seen over and over again.
The Intimate Nature of VRS
A relationship (such as it is) is established with these callers, whom we may never meet in person. Having worked as a sign language interpreter in VRS for many years, I have been able to witness people's lives in fits and starts. I am aware of people getting married, having children, seeing the children grow up, parents dying and all other aspects of life. It is a privilege I do not take lightly.
We are also physically seeing into people's homes, places of work, and other spaces they occupy over time. This is very intimate knowledge we gain and is not often what a freelance/community interpreter would experience. Often, assignments out in the community have a more constructed environment. In those instances, Deaf people are seen in their doctor's office, in their classroom, in their job site. Our callers are putting a lot of faith in us as interpreters, not only interpret their communication, but to also hold sacred all that we are privy to during the course of each phone call.
Business Owners and VRS
In addition to the intimate types of calls VRS interpreters experience, we interpret daily for Deaf callers who are doing their business, making their living, over the phone. As we see these callers repeatedly, we get into a rhythm of what those calls will be like. We learn the lingo/jargon of their various occupations, we get used to their way of interacting with their customers, and their idiosyncrasies. As this working relationship is established, we are able to make agreements about sign choices, ways of interacting with their customers, etc. Over time, it becomes easier and more comfortable to settle into the task at hand. I am sure this goes both ways. Hopefully the callers become comfortable with the interpreters over time. We become "colleagues" in a way. We want their businesses to succeed, and we do our best to make that happen!
Highlighting Human Interaction
All of this is a reminder to see each other as humans in an interaction. Of course there are rules and regulations for VRS, which we must follow, but I have found if we prioritize being human, all of that falls into place anyway. In some ways, the structure of the VRS system has pushed sign language interpreters back into the "machine model" of interpreting. It seems that we have allowed ourselves to backslide to this mindset. This is unfortunate, as it further separates us from our Deaf callers. This is where I believe some of the struggles and negative attitudes come into play with VRS work. The fact that we are doing this work through the internet, and are not in the same physical space as our Deaf customers, should not mean that there are additional barriers to our communication. I feel it's important for video interpreters to actively seek that human connection. As Brandon Arthur stated in his StreetLeverage – Live 2015 recap, "a fundamental truth about the field of sign language interpreting…success is derived from first acknowledging the humanity of the people in front of you. Simple. Challenging. True."
I believe that if we really see ourselves as humans first, and our Deaf callers as humans before anything else, our work will actually become almost effortless. This can be accomplished in a number of ways.
Connecting with our callers as humans is done when we are not actively involved with interpreting the conversation. A warm smile, admiring a scarf, waving at cute babies, cooing over kittens. The more familiar and comfortable we are with callers over time, the more we can settle in and do the work with ease, and all involved can be satisfied by a job well done. Even if we are faced with a caller we have never seen before, if we could assume this attitude, that callers are human as we are, therefore comfortable and familiar, all our calls can be smoother.
Using care when discussing the work with others is also critical in maintaining a focus on the humanity of those we work with. When I talk about my work to non-interpreters, I make sure to talk about working with humans, and the fact that working with humans is demanding.  Think of nursing, teaching, and other jobs where you are constantly interacting with people in all their joy and pain. When we as interpreters talk with each other, while protocol indicates that we refer to "callers", I think this limits us as well. We need to recognize the humanity we encounter daily.
Recognizing the shared experiences we have with callers also helps keep our focus on the human factor. When explaining VRS to others, I also try to explain that every type of phone call that a hearing person makes, a Deaf person also makes. Did you call your mother today? Was your conversation pleasant? Did it make you feel like a little kid again? Did you get mad and hang up? What about calls to set up doctor appointments or get test results? Telling the school your child will be out sick? Hanging out on the phone shooting the breeze with an old friend? Hours arguing with Comcast? This is what we do everyday!
In The End, Rise to the Challenge
Sure, we can talk about the stats and productivity rates of VRS work. We can talk about the anxiety that comes with not knowing what's coming our way next. We can talk about compassion fatigue and vicarious trauma. I will admit there have been times when I have interpreted very difficult, painful conversations after which I have removed my headset and walked out of the call center. I knew I would be no good for any subsequent callers, therefore I took care of myself, and them. However, I know I have settled into all of that. I enjoy the thrill of the unknown. I feel I can rise to the challenge of whatever comes my way. Interpreting in VRS becomes easier the more I can approach my work with curiosity, compassion and a spirit of collaboration with my fellow humans.
Questions to Consider:
What is a key phrase you can use to internally remind yourself that we are all human?
By treating each other humanely, in what ways can your work product be improved?
Suppose you're not "feeling it"; what are some things you can do physically to make it seem like you are, or steer yourself towards a more positive outlook?