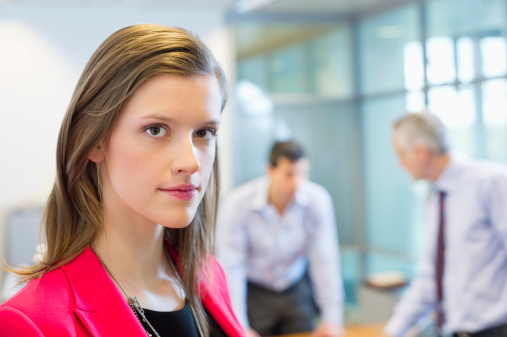 Accepting team assignments with sign language interpreters who continually violate the CPC is tantamount to approving and participating in ethical breeches. How can we better hold our colleagues – and ourselves – accountable?
For various reasons we, as interpreters, decline assignments. These reasons may include, but are not limited to: one's level of familiarity with content, a conflict of interest, a lack of availability, gaps in training, and a respect for the interpreter preference of the communities we serve. How many times is it that we decline work based on the ethics and integrity of our team?
We are all accountable for ourselves and for the ethical challenges we are faced with while working. Within this accountability is discretion about teaming – discretion that employs itself when we accept or decline work.
When an interpreter continually violates the NAD-RID Code of Professional Conduct (CPC) (1), that interpreter blatantly oppresses the communities we serve and is harming peoples' lives; we are all affected. I have often heard "I work with 'so-and-so' interpreter, and even though I know and have seen these behaviors that interpreter has done nothing to me."
These are comments I do not understand.
The rationale behind the comment, " . . . that interpreter has done nothing to me," is astounding. When interpreters are destructive on the job and breach the ethics they are bound to uphold, they are directly affecting our profession and, consequently, the communities we serve. These behaviors imply to all parties involved that this is what interpreters do and should be doing.
Doing Nothing is Doing Something
To do nothing is to passively accept unethical actions.
To do nothing is to shirk the responsibility of holding each other accountable.
Unethical behavior takes all shapes and sizes: fraudulent business practices, threats of retaliation, withholding information from the parties involved, stealing information from the parties involved, disregarding professional boundaries while on the job, disclosing confidential information, accepting work continuously in a setting for which one is unqualified… the list goes go on and on.
While the above-mentioned acts all violate the current rules-based (2) CPC, I would like to go one step further, to acts where one asserts their power and privilege while interpreting. This unethical behavior is audism. Examples of audist behavior could include, but are not limited to: using spoken English to co-opt an interpreted interaction for the interpreter's benefit, making side comments to the hearing participants unbeknownst to the Deaf individual(s), having rudimentary language fluency, ignoring the request for a Deaf interpreter, and possessing minimal Deaf world cultural context, all of which are tactics of disempowerment (3).
As Lewis Merkin points out in his recent vlog (4), audism can be experienced in many forms, some even covert. As we take a deeper look into why and when we turn down work, we also need to consider that accepting assignments with an unethical interpreter as your team is a form covert audism.
While working in a teamed situation we are seen as one. When we choose to work with unethical interpreters we are clearly showing, to all parties involved, that we have consented to work with these individuals and that we support each other. This consent condones past behaviors, supports current ones, and perpetuates the opportunity for further occurrences. When we accept work with unethical teams we are complicit in the infractions; what's more, we are reinforcing the offers of work available on teamed assignments.
The Current Frame for Ethical Guidance
During the 2012 RID Region I Conference in Atlantic City, NJ, RID Ethical Practices System (EPS) (5) representatives gave an overview of EPS policies and procedures, as well as the occurrences of grievances filed within the past few years. The number of accepted complaints was in the single digits.
These representatives explained that, though they receive dozens of grievances, many grievances are not accepted due to the following: time lapse since the occurrence, complaints against working, but not RID-certified interpreters, and/or complaints against interpreter agencies.
In my mind, the EPS procedure is inordinately lengthy. In order for any person to file a complaint, one must have a comprehensive understanding of the 37 page handbook, and trust the system from which it originated.
Could this be the reason the number of grievances are in the single digits?
Case in Point
A couple of examples.
Example One
(reference at approximately 3:04 and 5:20 into video)
As is indicated in example one (6), RID's response to the grievance was that the 90-day time limit was up, and that "This case will now be dismissed and she [the interpreter] will not be notified of this." What is the rationale for not notifying the interpreter that a grievance had been filed against her? Notification would make the interpreter aware that the decisions she is making are causing harm and, albeit past the 90-day limit, a grievance has been filed against her. Instead, by doing nothing, her behavior has been endorsed.
Example Two
As we see in example two (7), the grievance was filed and a request was made for expediency due to the severity of the situation and extenuating circumstances. Even so, the process took two years for a final decision. Within this final decision the interpreter was cited to have violated four of the seven tenets within the CPC. The resolution to the matter – the interpreter is to take an online course.
Unfortunately, this system sends a clear message that the Deaf experience of prolonged encounters with egregious and oppressive interpreter behavior, two years of costly waiting, and four serious violations of the CPC, all amounts to a measly slap on the wrist and an online course.
To me, this is hardly a resolution.
While the number of public grievances may be small, unethical behavior is still running rampant. As it stands, RID is the sole vehicle to certification. Revoking someone's certification as a sanction for unethical behavior is critical to protecting the value of certification.
What Should be Done?
As interpreters, we have the duty to make decisions based on discretion. This discretion is powerful. We have the ability to choose where, when, and with whom we team and work. If the people with whom we work create discord in our ethical conscience, it is time to reevaluate.
Suppose we were to reframe the ways in which we accept work? What if we all stood on the grounds of doing the most good and upholding the linguistic rights of the communities we serve and ultimately are a part of, (8) each and every time?
We may be faced with discomfort in telling an agency or a requestor: "I am available, but I have an ethical conflict with this interpreter. Therefore I am unable to accept this assignment." In doing so, we are taking the initiative to create change (9) and shift the paradigm.
We may be met with resistance since we are "that interpreter" who questions teaming decisions made by the gatekeepers in our profession. The beauty of that resistance is the opportunity for dialogue and deeper exploration as to why ethical teams and practices matter.
I invite you to be the catalyst for an ethical support community and delve into this idea of declining work based upon the unethical history of our potential team. In this ethical support community, let's talk about how this idea and practice affect us as individual practitioners, affect the communities we serve, affect our overall working rapport, and ultimately, reflect our accountability.
What lasting impression will you create?
Works Cited
(1) Registry of Interpreters for the Deaf, NAD-RID Code of Professional Conduct, May 2013
(2) Kidder, Rushworth How Good People Make Tough Choices New York: Harper, 2009. Print.
(3) Suggs,Trudy Street Leverage, Deaf Disempowerment and Today's Interpreter, Posted December 11, 2012 Retrieved May 2013
(4) Lewis Merkin You Tube personal vlog, Posted April 24, 2013 Retrieved May 2013 https://www.youtube.com/watch?feature=player_embedded&v=XIeSlSmOyIg_
(5) Registry of Interpreters for the Deaf, Ethical Practice Systems Policy Manual, May 2013
(6) Dottie Stafford Griffith personal vlog, Posted April 22, 2013 Retrieved May 2013
(7) Paul Shreeman You Tube personal vlog, Posted January 14, 2013 Retrieved May 2013
(8) Cokely, Dennis "Exploring Ethics: A Case for Revisiting the Code of Ethics", 2000
(9) Street Leverage, Sign Language Interpreters Embody the Change You Want to See, Posted May 8, 2013 Retrieved May 2013