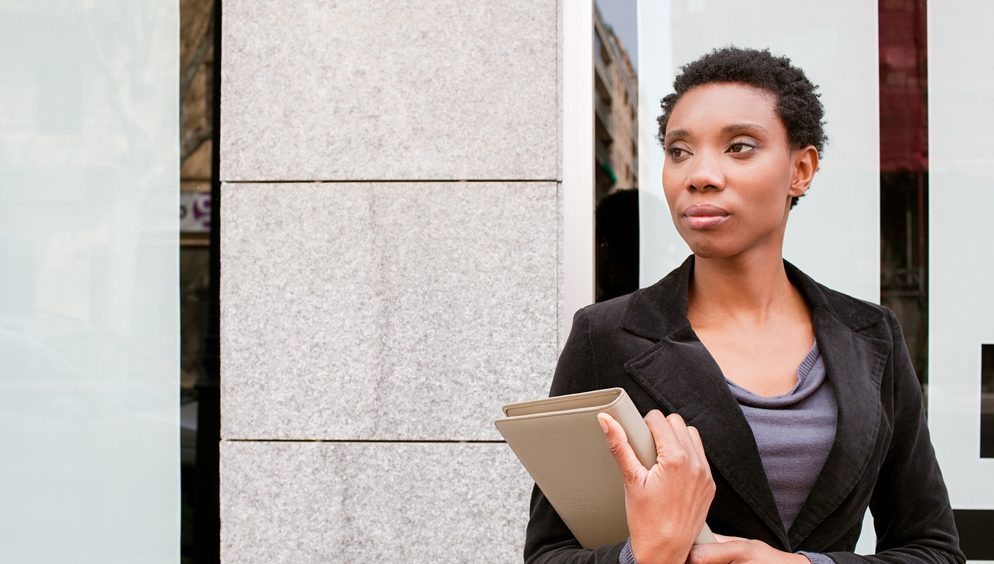 True diversity is needed in the field of sign language interpreting rather than creating an "other" group of interpreters. Avoiding tokenism and approaching diversity with the goal of equality are the first steps to breaking through.
As I sit down to write this article, I am struck by the notion that while I want to bring an important theme to the fore, I am unsure of how the topic will be received. I constantly broach subjects of race and how it plays out in the field of sign language interpreting, and frequently battle the thought that I'm somehow negatively labeling myself as a running ad. But as the world's landscape continues to shift and change, so does our professional one, and by extension, so does its discourse. This shifting tide is not unique to the interpreting sphere, rather, we see it across all disciplines. This past year I've experienced it to an exponential degree and my experiences are the basis for this article. To what am I referring?
Who doesn't enjoy being chosen for a specific job? It's a nod to our professional prowess. It is an indication of our occupational aptitude. Basically, it makes us feel good. We trust that it means the requestor believes we are qualified and capable of handling the task, and those are the reasons for which we have been requested. But sometimes, as it goes for Interpreters of Color, there's an additional rationale behind the special request. It can lead us to beg the internal question: are we being tokenized or is this just growth toward diversity playing out?
You Say Tokenism, I Say Diversity
Is there really a difference between the two terms? Or is it just a matter of perspective?  According to Merriam-Webster Dictionary, tokenism is "the practice of doing something (such as hiring a person who belongs to a minority group) only to prevent criticism and give the appearance that people are being treated fairly". I know reading this definition off-hand leaves an unfavorable taste. It screams negativity and is not always indicative of every attempt to diversify. But now, let's look at the definition of diversity, "the inclusion of individuals representing more than one national origin, color," etc. Is there a difference? Absolutely. There lies a nuanced, but clear distinction between the two. Although it would be best illustrated in visual form, in "token" situations there is an invitation for someone of a "minority" (in representation) to join a majority. This may be to suit a specific need or purpose, and in other instances, it can be a step towards creating diversity. The issue of tokenism can start to arise when that one individual becomes the sole representation of "diversity" by means of their presence. On the other hand, true diversity, by its very definition, is inclusive and is seen when there is more than one group represented at all times.  
Micro Meso Macro
How can this play out in the field of sign language interpreting? Let us consider an example. You've been pursued for a high-profile assignment to work with a specific client. You wonder why since there is a regular team in place and has been for quite some time. However, last minute, the team realizes that this client will be speaking to an audience comprised predominantly, if not solely, of your race. You get a call at the eleventh hour to see if you can cover this assignment. Off the top, it doesn't sound bad at all. It looks like a genuine attempt to create a culturally responsive match. Here is where we see tokenism start to rear its ugly head, disguising itself behind the mask of diversity. The team nor the client, prior to this request, had given concerted thought to the need of diversifying the team, which led to a 'hunt' for a racial replica in a crunch. Ultimately it results in a 'skin match'. This is something Ph.D. candidate, Pam Collins, addresses in her dissertation entitled, "The Social Organization of ASL-English Interpreters: An Institutional Ethnographic Exploration of Getting Scheduled." She sheds light on "the lack of understanding demonstrated in scheduling practices and the efficacy of scheduling in providing access to clients."  While I respect the reasons for seeking, in this case, an interpreter of color, had the team in my example (sign language interpreters, institution, client, etc.) developed a cohort of qualified, diverse interpreters at the onset, they would have had the established versatility in place to meet a variety of needs.
Another example is when sign language interpreters are solely hired and/or requested for events during a particular time of the year, i.e., the month of February. But isn't that just cultural common sense? Unquestionably. The due diligence in making sure to use the right sign language interpreter in the right situation, when possible, is not just cultural common sense, it is professional common sense. However, the word "solely" is italicized for a reason. The tokenism comes into play when we notice we are only employing those specific interpreters of color during a specific time of year, for a specific event, for a specific audience, or for a specific speaker. If an agency has qualified Interpreters of Color on their roster but chooses only to employ them when they feel it "culturally appropriate," they are tokenizing the individual, proverbially boxing them into a limited range of competency confined exclusively to their race. This is where we see the issue come from under the microscope and elevated to a more macro, systemic level, where there is something inherently faulty in the professional practice.
In the first example, the team did consider the race of the sign language interpreter and assumed that would create the cultural adhesive, however, this was precisely the part which was not weighed. While the sign language interpreter indeed shared a common race with the audience, that was all they shared, because they were of two different ethnicities. What had not been taken into consideration was the interpreter's knowledge base, their skill in handling the topic of discussion, or their familiarity with this particular ethnic group. Interpreters of Color are often recruited more based on cultural expectations and less by their lived experiences.
It is easy for us to fall into the loose-fitting narrative of, "isn't something better than nothing?"' Unfortunately, at times, we do have to ride the symbolism of this mantra to make sure accessible services are being provided. But to comfortably sink into the cushion of that lyric in lieu of exercising reasonable care in this context would be to perpetuate a pattern that is flawed in its approach towards enhancing the professional norm.
A Losing battle?
It is not about filling every request. We know our numbers are small. The precarious fragility of the field's disproportionate dynamic is not lost on those who frequently confront the topic. Active steps are being taken to analyze how we can change this rhetoric to grow the qualified pool of Interpreters of Color. It is more about gauging our behavior, analyzing it, and earnestly working to adjust the lens through which we have become accustomed to viewing this subject.
Although being token in any situation is never a sought-after goal of any member of a group smaller in representation, we do understand at times the necessity of wearing the cloak. There exist moments in which we feel token, in which we are token, but also recognize we are better suited for the request. It can be a dubious inner war to battle, frequently unsure if we are being asked because of our skill and professionalism, or for the tone of our skin. This uncertainty is further eternalized by the infrequency in which we are recruited for non-race related solicitations.
Checks and Balances
Most tokenization is done unintentionally but when left unchecked, becomes a cyclical norm. We have to progressively work to fight against deficient practices. It can be very easy to ride the societal reclamation wave for social justice, however, the key is in not letting that revolutionary fervor crest and crash. Tokenism does the very opposite of boost morale. It breeds mistrust, skepticism, and feelings of inequity. I can't prescribe a panacea, but there is a treatment plan. These conversations are frequently had in small circles but rarely brought to the general masses. Often there is a desire to make moves, but our hesitancy usually stems from not knowing where to start. Here are a few suggestions:
Approach a trusted colleague and utilize this post as a reference to open the discussion.

Openly and honestly analyze your business practices.

Do you actively participate in discussions or events which grow your understanding of this topic and the repercussive effects it has on certain groups in our field?

Do you sincerely tap into the skill set of your underrepresented POC employees, whether staff or contractor?

Can you capitalize on the experience of seasoned Interpreters of Color to perhaps create mentorship opportunities that will directly grow the ability and faculty of less seasoned ones?

Are you willing to grant the same privilege of maturation and development access by way of diverse teamwork?
"Tokenism does not change stereotypes of social systems but works to preserve them, since it dulls the revolutionary impulse." – Mary Daly. This quote eloquently summarizes the overdue need for a paradigm shift in order to challenge the status quo. There is a strong tendency to be reactive instead of proactive, however, we need to make room for growth by laying a foundation we can build upon. Once we start building, we won't have to "hunt" and "catch," we'll just have to ask.